1. A jumperoo. This was Oliver's favourite toy from around 3/4-9 months old. With lights, sounds, having the ability to turn around to interact with different things and also being so easy to bounce around in your baby is constantly entertained.
2. A bouncer. This was perfect for when Oliver needed to feel somewhat snuggled and settled whilst I done housework and have dinner (face them the other way so you don't feel guilty for not sharing).
3. A tummy time mat. Oliver loved this from birth and used it all the time until he could roll over. It helps to strengthen your babies neck, back and shoulders and helps develop their gross motor skills.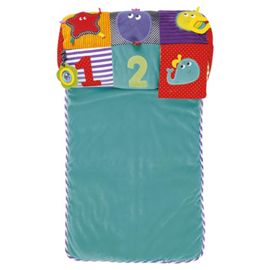 4. Dummies. This is a hit and miss subject but I decided to introduce Oliver to a dummy at 3-4 weeks old. Due to him being severely unwell for the first few months of his life he was a very noisy baby and woke up a lot, introducing these helped massively. He still has one now when having a nap/going to sleep at night, when he can understand we will leave them out one night for Ben & Holly to take  away for other little babies that need them (straight in the bin!)
5. A musical mobile. From birth until this very day Oliver has had the same mobile (we've tried to change it to a better sounding one with no luck). They provide visual and sound stimulation, help develop gross motor skills and also help your baby relax.
6. A bottler warmer. This was a life saver on the go. It can warm up water or expressed milk and is the perfect size to last all day and fit in a standard size changing bag.
7. A milk dispenser. Before having Oliver I hadn't heard of these things and no one had recommended them to me, so there's me, carrying around milk in a standard pot which when I opened the lid, it flew everywhere. These make bottle making on the go 1,000 times easier.
8. A bath thermometer. This is something I know a lot of people get wrong, me included. My partner and I would sit there testing the water, chopping and changing the temperature because we had no idea what was too hot or cold. These things make bath time simple and quick and make it a lot safer for your babies sensitive skin.
9. Baby monitors. We definitely couldn't have coped without these. They give you a peace of mind knowing that any noise your child makes, you'll know about it. You can also turn on lullabies from wherever you are in the house to send them back off to sleep and you can also see the temperature of the room, allowing you to know if it's too hot or cold for baby.
10. A bumbo. Oliver loved this for just relaxing, playing with his toys, watching CBeebies or even having a snack/dinner in. He was comfortable, strapped in and you can also add a tray on to the front, making it even easier for meal times.
Thanks for reading!